Aggie Enterprise training will deliver the knowledge, skills and abilities to successfully navigate and use the new system at go-live on January 1, 2024.
For training content, follow a link to one of the modules below.
Training Timeline
Aggie Enterprise training is being delivered in phased approach:
Phase 1: kicks off August 8, 2022 with the Chart of Accounts eLearning courses, which will be followed by additional CoA resources. 
Phase 2: begins late July 2023

with eLearning and self-support resources (how-to guides, etc.) released throughout July, August & September.

Phase 3: launches in October 2023 with r

egistration for instructor led courses for select areas (PPM, AR, GL).

Phase 4: eLearning for Aggie Enterprise Planning will be available early 2024.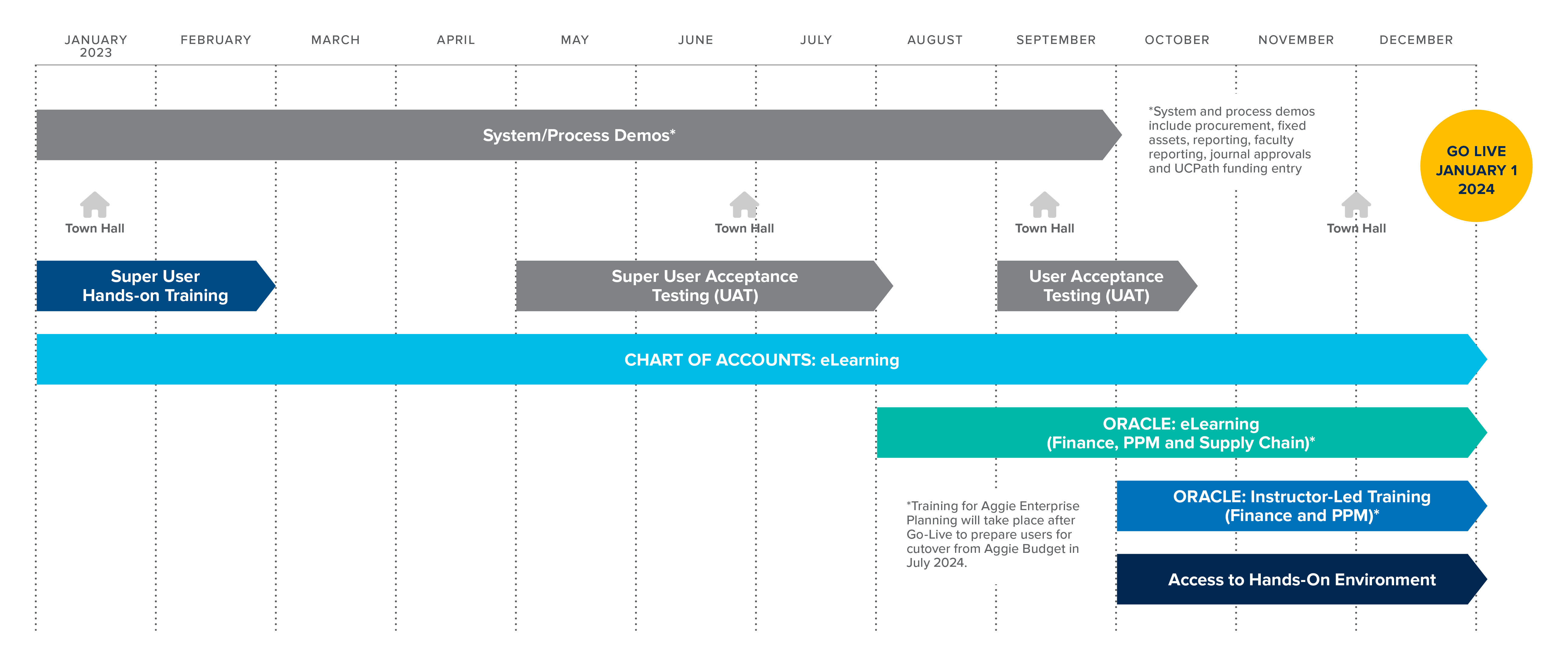 Training Timeline (PDF) | Text Alternative
---
Aggie Enterprise Training Workgroup
The Aggie Enterprise Training Workgroup launched in February 2023. Representatives from Schools, Colleges and Administrative Units have been charged with providing strategic guidance and feedback around Aggie Enterprise training efforts and materials.
Workgroup Charge
Provide strategic guidance and serve as advocates to support adoption of Aggie Enterprise
Advise on methods for deploying training
Assess supplementary training tools and solutions
Network and learn from other universities using Oracle Cloud Financials
Identify synergies and leading practices in successful end-user training
Advise on types of support that would be helpful before and after go live
Provide guidance on the most effective communication channels
Review and provide feedback on training content
Workgroup Members
| | |
| --- | --- |
| Crystal O'Hara | Communications and Training, UC Davis Supply Chain Management |
| Damian Chapman | Assistant Dean, School of Education |
| Elissa Roeser | Assistant Dean, College of Engineering |
| Erica Aichwalder | Manager, Office of Business Transformation |
| Jennifer Rossi | Chief Administrative Officer, UC Davis Health School of Medicine |
| Jim Hewlett | Communications and Training, UC Davis Supply Chain Management |
| Monica Wilson | Director of Student Affairs Divisional Resources, Student Affairs |
| Myrene Abot | Interim Executive Officer, Office of Chancellor and Provost |
| Tara Zimmerman | Manager, UC Davis Health School of Medicine |
| Terrence Ireland | Assistant Director, Budget and Institutional Analysis |